If you like collectables and you're looking forward to Assassin's Creed Origins (I know I am) then you'll be interested in checking out the two new Assassins Creed Origins collectables that Ubisoft announced yesterday.
Unfortunately these only appear to be available in the UK at the moment (as far as I can tell), but I'll update this post if I see them available internationally. If you have any links or prices for dollars or euros, please leave a comment below.
Apple of Eden
A mysterious feature of the Assassins Creed series, this life size official reproduction 9.5 cm diameter sphere sits atop its own Egyptian-style stand. At the push of a button its internal lighting system also illuminates it with LEDs around the lines that separate its segments, looking super impressive.
Among the most coveted Pieces of Eden, Apples are powerful artefacts designed by an ancient civilisation to ensure humanity's subservience, potentially allowing control over a subject's thoughts, emotions and behaviour.
You can pre-order this from the official Ubicollectables website which qualifies for free shipping.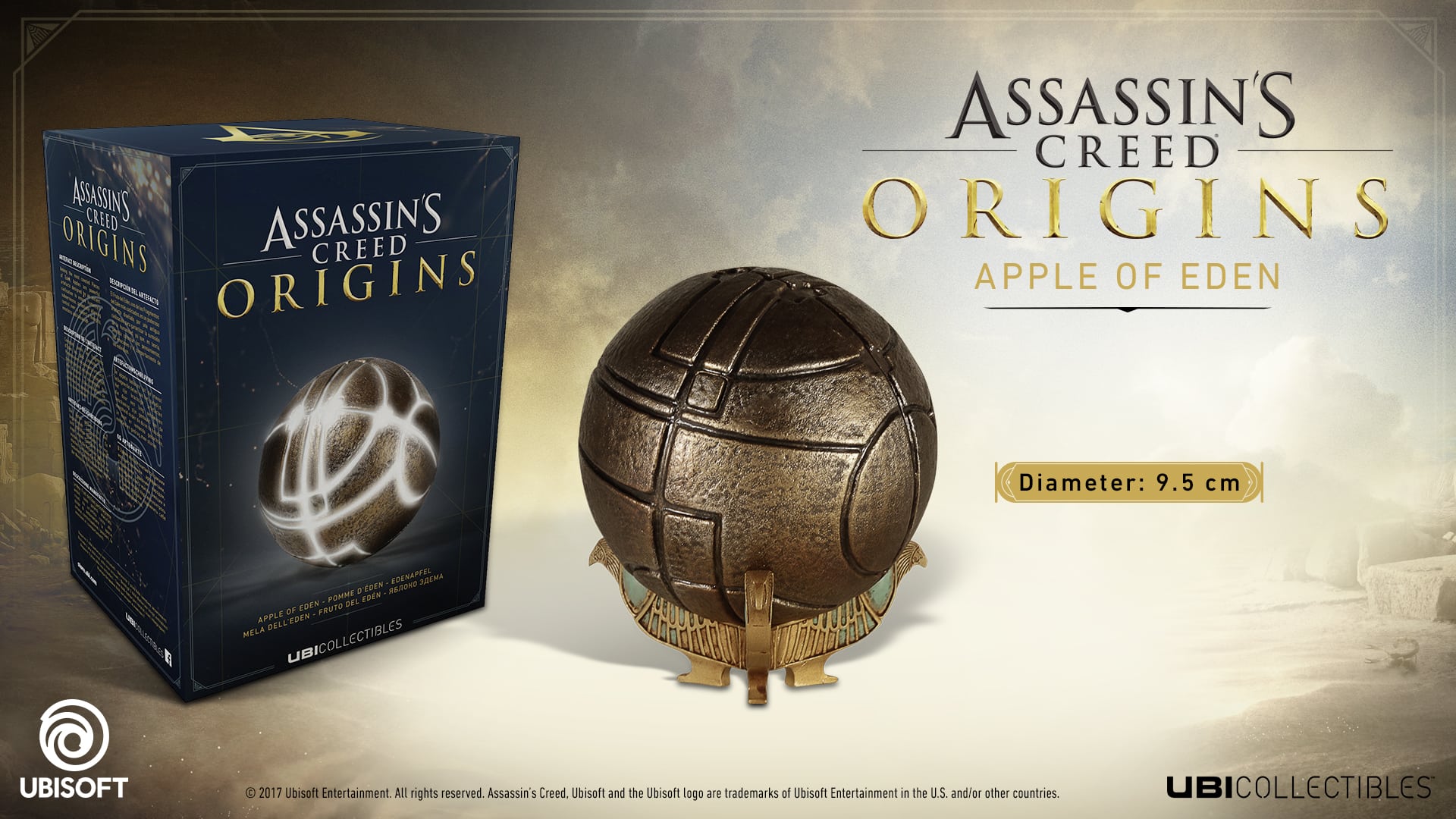 Official replica of the Apple of Eden seen in Assassin's Creed Origins.
Internal lighting with LED system controlled by a discreet button.
Finely detailed Egyptian-styled base
Requires 2 AAA batteries (not included)
Diameter: 9.5 cm
Material: PVC & ABS
http://ubi.li/bq6pq £34.95
Bayek Protector of Egypt
Bayek – the main character of Assassins Creed Origins – and his eagle Senu target their next victim. This finely detailed figurine measures 32cm. Discover Bayek with his complete outfit including a shield, a bow and the iconic hidden blade.
Bayek is a protector of Egypt whose personal story will lead to the creation of the Brotherhood of Assassins.
You can pre-order this from the official Ubicollectables website which qualifies for free shipping.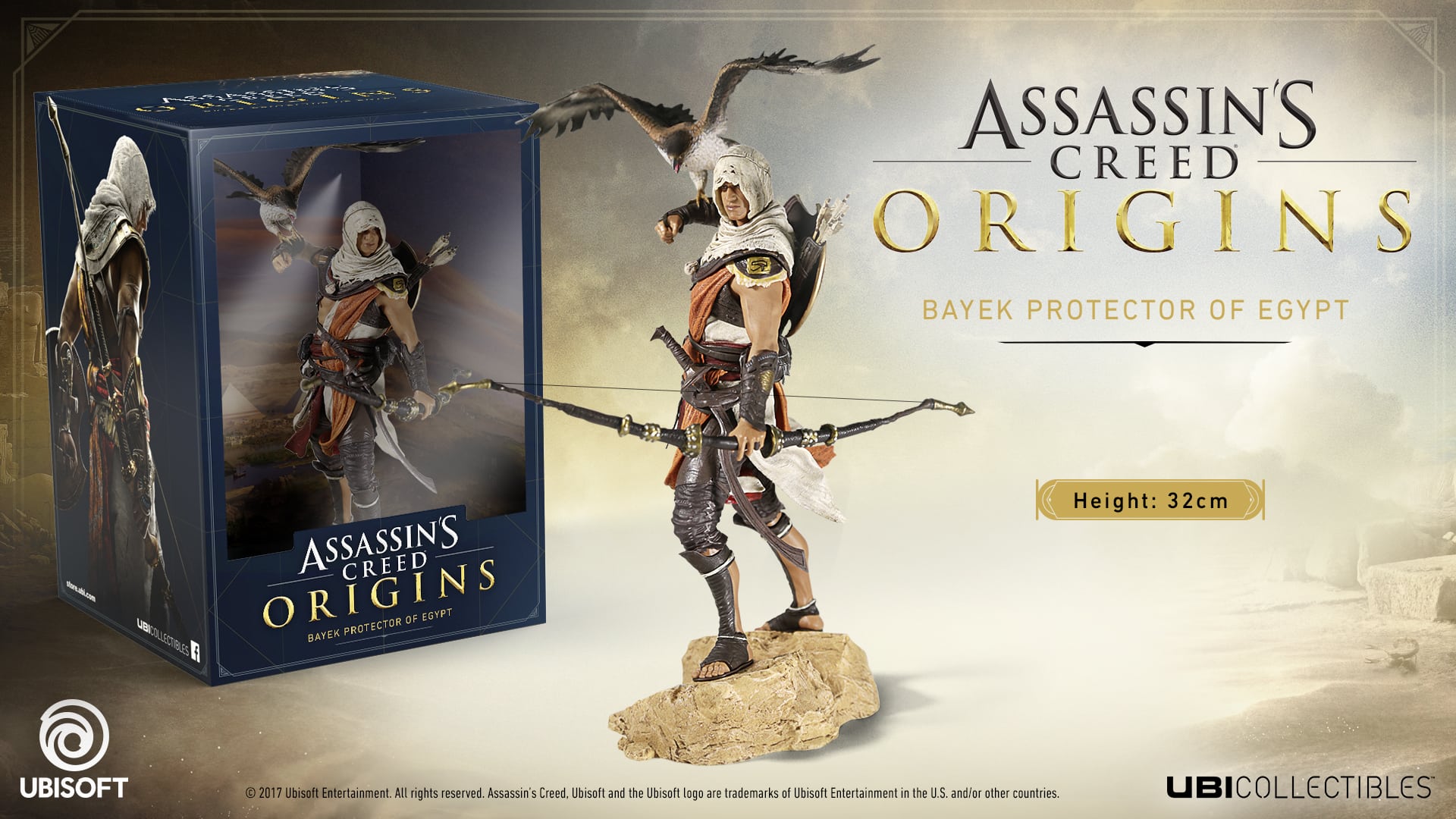 Highly-detailed shield and weapons, including a bow and arrow, sword and hidden blade.
High level of texture on the outfit.
Iconic pose depicting Bayek & Senu
Egyptian-styled base including engraved hieroglyph
Material: PVC & ABS
http://ubi.li/dd9ax £49.95
Ordering
If you've bought from the Ubisoft Store before, you can use 100 Club Units to get 20% off your order.
Both of these Assassins Creed Origins collectables will be released alongside the game on 27 October 2017, but you can pre-order both of these now using the links above.
Two editions of the game come with different Assassins Creed Origins collectables of Bayek. Check out my Assassins Creed Origins editions comparison of what's available for the various platforms; PC, Xbox One and PS4.
Pre-order Assassins Creed Origins for your platform on Amazon:
What the * means above
If a link has an * by it, that means it is an affiliated link and therefore it helps this website earn money, as it is tracked to us. If you go through it, it can sometimes result in a payment or benefit to the site. It's worth noting this means the third party used may be named on any credit agreements.
You shouldn't notice any difference and the link will never negatively impact the product. Plus the things we write are NEVER impacted by these links. If it isn't possible to get an affiliate link for a mentioned product, website or service, it is still included in exactly the same way, just with a non-paying link.
Duplicate links of the * links above for the sake of transparency, but this version doesn't help LightwaveAl.com: Amazon.com (US), Amazon.co.uk (UK).